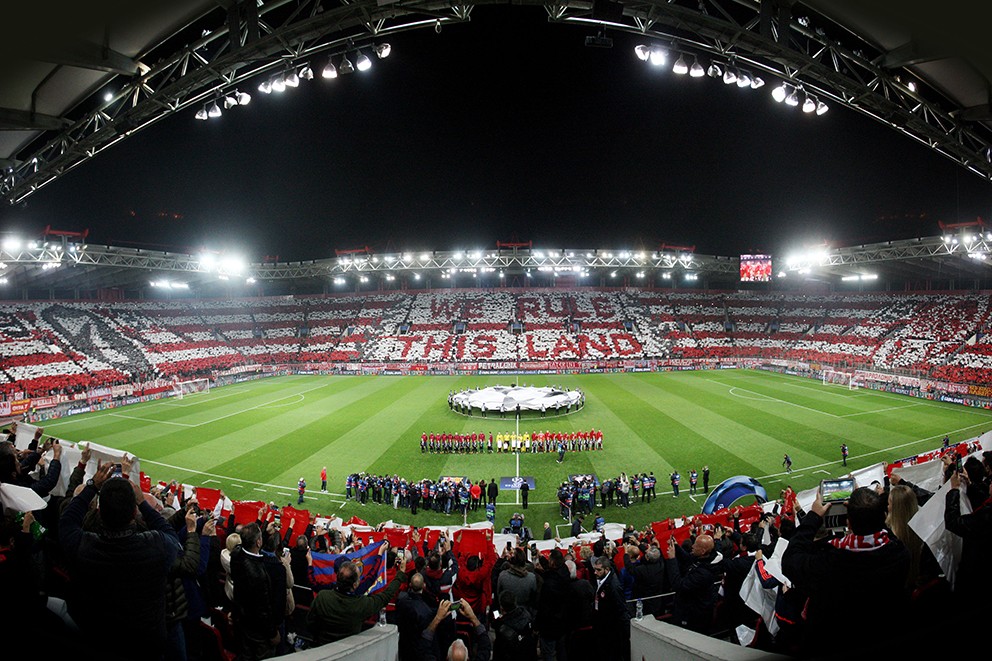 An Εternal Passion
Olympiacos F.C. is the greatest football club in Greece, with the most titles, having won 47 championships and 28 cups and it has always held a special place in Vangelis' heart.
For him, the club signifies a number of different, powerful ideas: respect, friendship, passion, pride, victory, grace, solidarity, leadership, fair play, social responsibility and an unyielding belief in the destiny of the most successful and storied team in the history of Greek football.
In his own mind, Vangelis Marinakis always has been and always will be, first and foremost a fan of the team and a member of the Olympiacos family.
In 2010, he made the decision to acquire a majority shareholding of the club. Vangelis did this because of his love of Olympiacos. Since then, Olympiacos FC has won ten league championship titles, seven of which were consecutive, and three Greek cups marking one of the most successful periods ever in the Club's history. The team participates each year in the top club competition, the UEFA Champions League.
Between 2010 and 2011, Vangelis was president of the Super League Greece, as well as vice president of the Greek Football Federation, while in the summer of 2022 he was elected again as president of the Super League Greece.
Vangelis' decision to expand the Olympiacos Academy of Football and the Football Schools and to invest in one of the most contemporary sports facilities in Europe, has allowed thousands of Greek children to become better athletes, better students and to develop strong values and discipline. Over the past 12 years, our School Network expanded across Greece and abroad; it now features more than 50 schools, 10 of which operate in foreign countries, such the USA, Canada, Argentina, UAE, Australia and Sweden.
Under his leadership, during the period 2010-2022, Olympiacos' amateur teams have won more than 180 titles in Greece and 8 European trophies across numerous team sports including: women's volleyball, women's and men's polo. Also the Club won hundreds of championships in individual sports: swimming, athletics, sailing, rowing, canoeing, kayaking, ping pong, fencing, boxing, kickboxing, and taekwondo. This success, in fact, makes Olympiacos the largest multisport club in Europe.
Social Responsibility
Moreover, Vangelis has guided Olympiacos to develop an extensive programme of socially responsible outreach across Greece and abroad, demonstrating in practice that giving is a way of life.
War in Ukraine, 2022
On April 2022, Olympiacos displayed solidarity to Ukrainian refugees from the bloody war against Russia by organizing a friendly match against Shaktar Donetsk in the Karaiskakis Stadium. All proceeds from this "Match for Peace" amounted to EUR 102,000 and have been exclusively used for the provision of humanitarian aid to Ukrainian war victims and refugees.
Standing by Wildfire Victims, 2021
When Greece was ravaged by the catastrophic wildfires of August 2021, Evangelos once again stood on the front line. On 6th August, two lorries along with the Olympiacos bus, left for Mantoudi region in Evia loaded with 100,000 packs of food and water, as the whole area was severely challenged - three days later the assistance was still going strong. This time the humanitarian mission also reached the suffering Ilia region, specifically the villages of Pelopio and Lala, providing 45 tons of milk, bottled water, juice and biscuits to those affected.
Earthquake victims of Crete, 2021
The devastating earthquake with epicentre in Crete in December 2021 could only trigger Evangelos' sense of solidarity for his homeland. In less than a month, 28 fully equipped classrooms, school offices, toilets, protective masks and footballs were delivered to schools in the earthquake zone to meet the needs of 1,000 students.
Support to quake-hit Elassona, 2021
Mr. Evangelos Marinakis and Olympiacos FC responded swiftly when, in March 2021, a quake of 6.3 on the Richter scale shook the region of Elassona. A donation of 20 fully equipped portable cabins (houses) with all basic supplies and domestic appliances managed to provide immediate relief to all quake-ridden families of Damasi, Tirnavos. Moreover, food supplies, blankets and cleaning supplies have been dispatched to the affected population.
UNICEF, 2013 onwards
In 2013, during his Presidency, Olympiacos announced a major international partnership with UNICEF, financing the '100% Campaign', the most important vaccination initiative for children across the world. In 2017 the ground-breaking partnership of Olympiacos with UNICEF was renewed.

Harvard University Conference & the "Athens Principle", 2016 onwards
Since 2016, Vangelis has supported Harvard University's work on the Right to Participate in Sports without discrimination, which has an international dimension. In September 2017, he sponsored a special conference in Athens in collaboration with Harvard to focus on football's social responsibility with specific reference to refugees: It was called "Reinforcing, Crossing, and Transcending Borders: Soccer in a Globalized World." At the conference, Olympiacos became the first club to sign the "Athens Principle for the Right to Participate in Sport". Vangelis commented: "Football can cross borders, overcome ancient enmities and bring millions of people together around the world." Olympiacos' initiative has found supporters in the form of fellow football clubs Barcelona, Sporting Lisbon, Juventus, Fenerbahce, Real Madrid, as well as International Sports Press Association (AIPS) and Euroleague, which have since co-signed the "Athens Principle". 
Between May 31  – June 2, 2018, Harvard University organized the third conference with the support of Olympiacos FC and Mr. Vangelis Marinakis, with the participation of scholars from universities across the five continents! It was well attended by students, club representatives, federations, football and sports people in general.
Greatest Greek Author N. Kazantzakis Museum, 2014 - 2024
Beginning in 2014, and with a commitment stretching over 10 years, Vangelis and Olympiacos have been the main sponsors of the Kazantzakis Museum in Heraklion, Crete dedicated to the greatest and most translated Greek author: Nikos Kazantzakis. Their contributions help support day-to-day activities and also events organized by the Museum, such as: the annual summer festivals of the Museum, which focus on the travel writings of Kazantzakis e.g. "Traveling in Spain" and "Traveling in England". To celebrate 60 years since his death, in October and December 2017, a concert, a visual exhibition inspired by Kazantzakis and an exhibition of his works took place with Vangelis' support, at the Municipal Theater and the Municipal Art Gallery of Piraeus. Finally, Vangelis supports a new documentary about Kazantzakis produced by ΕλCulture and Cosmote History TV.
Supporting the Greek Military in the border with Turkey, 2020
Following a mandate by Evangelos, Olympiacos delivered 75 tons of supplies and emergency items such as dried foodstuffs, water, fruit juices to the men and women of the Greek armed and security forces safeguarding the Greek borders during the Evros river migrant crisis with Turkey.
Donations of life against Covid-19, 2020
Evangelos along with Mrs Aggeliki Fragkou and ΙΟΝ S.A. donated more than EUR 1,500,000 to secure 12 ICU beds for the Nikaia General Hospital, covering thus all expenses for the required building and retrofitting works, for E/M works and the total cost of the necessary medical and nursing equipment.
Evangelos continued the fight against the coronavirus, with a donation of EUR 100,000 to the PSAP Telemarathon and a donation of high quality protective masks and medical-technical equipment to the General Hospital of Piraeus "Tzaneio".
Refugees in the Port of Piraeus, 2016
Vangelis is also involved in the large, global, issue of refugees. At his direct instruction, the Olympiacos team made an unprecedented humanitarian intervention. From March 4, 2016 and for two months, until state assistance took over, Olympiacos provided food, water, clothing and footwear to the refugees who were stranded at the gates of the Port of Piraeus. More than 70,000 meals were distributed along with 150,000 items of clothing and toys.

"Together in Life - Together in Olympiacos!", 2016 onwards
Under the guidance of Vangelis, the Administration of the Academy and the Schools of Olympiacos implemented a significant charity work for institutions and entities in need. Through the project "Together in Life - Together in Olympiacos!" pupils with cognitive disabilities from Special Schools of Piraeus train at the Academy of Olympiacos, participate in special football tournaments and watch games at the 'G.Karaiskakis' stadium. The program has emerged as an example of European Best Practice in Ulster University's "The Engagement of Disabled People in European Football - Best Practice Cases" conducted for UEFA.
Special Olympics, 2017 onwards
In the context of the European Football Week - Special Olympics, Olympiacos and Special Olympics Hellas organized, for two consecutive years in 2017 and 2018, at the Club's Training Center a 7vs7 Special Football Tournament for Unified Games with the participation of players from the Academy. The special team of the Olympiacos Academy, "Together in Life, Together in Olympiacos" participated in the tournaments. The collaboration with Special Olympics Hellas continues.
International Olympic Academy, 2015-2017
In order to champion the Olympic ideals of fair play and sportsmanship that are close to his heart, Vangelis as sole sponsor, financed for two academic years the MA in "Olympic Studies" of the International Olympic Academy, attended by 60 students.

Hellenic Olympic Academy, 2014
Vangelis also supported financially the peace education initiative of Greece's National Olympic Academy, which won a Guinness award in 2012, for enlisting 50,000 children to form with paper ships the largest peace pigeon in the world.
Steven Gerrard Foundation, 2013
In 2013, Vangelis made a substantial donation to the Steven Gerrard Foundation, a high profile charity organization connected to the former England and Liverpool star, which focuses on disadvantaged children as well as those suffering with serious diseases.
"Elpida" Association of Friends of Children with Cancer, 2010 onwards
Annually since 2010, Vangelis and Olympiacos support morally and financially the Association of Friends of Children with Cancer "Elpida".
"Floga", Association of Parents of Children with Neoplastic Disease, 2013 onwards
Every year since 2013, Olympiacos keeps the flame alive for some very special people, children with neoplastic disease, hosted in "Floga", the Association of parents of children with neoplastic disease.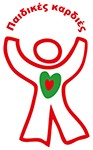 Children's Hearts, Association for Patients with Congenital Hearts Diseases of Northern Greece, 2017
Vangelis, through Olympiacos FC, donated the amount of €75,000 in memory of his father, Miltiadis Marinakis, to the Association for Patients with Hearts Diseases of Northern Greece "Children's Hearts" for the purchase of equipment for the Clinic of Adult Congenital Heart Defects of AHEPA Hospital's First Cardiology Department. The clinic provides care to around 600 patients and, with this donation, it is possible to make the diagnosis and monitoring in Thessaloniki. This way, parents and children will not have to travel to Athens for examinations.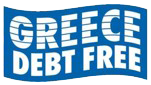 Greece Debt Free, 2012
In June 2012 through the non-governmental organization (NGO) Greece Debt Free, Vangelis bought and retired €1,364,000 face value of Greek debt, spending an actual €168,590 on behalf of the 55 players and employees of Olympiacos FC.
Tsunami in Japan, 2011
Vangelis also supported the reconstruction effort in Japan following the devastating tsunami of 2011. Olympiacos was the first international football club to reach out to representatives of Japan, inviting the Japanese Ambassador to Greece to a special event where he received a cheque from the club towards disaster relief efforts.
Match against Poverty – Friends of Zidane v. Friends of Ronaldo, 2010
Olympiacos and the United Nations Development Program (UNDP) organized in December 2010 the 8th Match against Poverty with football legends Zinedine Zidane and Ronaldo at the 'G.Karaiskaki' Stadium. The proceeds of the match were donated to help earthquake-stricken Haiti and Pakistan.